---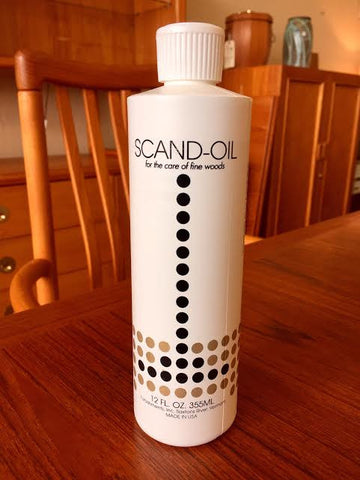 Scand-Oil Furniture Care Product 12oz. & 32oz. FREE SHIPPING
---
WE NO LONGER HAVE SCAND-OIL AVAILABLE FOR SALE

Scand-Oil is a comprehensive wood care product designed to clean, polish and protect. It is formulated from U.S.P. and food grade oils and is sandalwood-scented.

Scand-Oil is non-toxic and is packaged in attractive unbreakable bottles.
Scand-Oil cleans by dissolving dirt, food and the residues of old polishes and waxes. Scand-Oil will leave the surface clean and lustrous. This product will protect your woods by leaving an ultra-thin barrier of oil in the tiny pores of the finish on the wood.
On wood that is re-sealed (traditional oil finishes), Scand-Oil is designed to penetrate further to replace the woods lost natural moisture.
Scand-Oil is non-combustible. It may be shipped without restriction and stored in home, office, showroom and warehouses without fire hazard concerns.
Scand-Oil is safe to use on children's furniture and is not harmful to pets. Scand-Oil is as pleasant and easy to use as hand lotion.
Scand-Oil is the first choice for use on any oil-lacquered or varnished woods. This product is highly recommended for the care of fine furniture woods such as teak, walnut, cherry, maple, oak, and rosewood. 
 This product is most often used by owners of fine furniture and cabinets but can also be used for bowls, carvings, clocks, frames and wooden-ware. We can also supply Scand-Oil to maintenance services, museums, furniture refinishers, boat-owners and to institutions such as banks and corporate businesses for the care of office furniture and wood paneling.
---
More from this collection